Teams: Troubleshooting for instruction
There are several considerations that must be kept top of mind which are outlined below along with some best practices and troubleshooting tips to minimize the impact on instruction.
In this Article:
Internet connection
A poor internet connection can majorly impact how students interact during remote instruction. While more impact will be realized during synchronous sessions (live meetings) and when students are online for prolonged periods of time.
Availability
In many rural areas a wired internet service is not available making mobile coverage (MiFI) the only option for service to the home. However, Even when there is mobile coverage, the strength and stability of the connection varies by location and other factors.
Slow Data Speeds (low bandwidth)
Bandwidth is the amount of data that can be transferred over an internet connection per second.
Teams meetings that have audio and video require a minimum of 1.2 Mbps. Users might see a message if they have low bandwidth. Others might not be able to join the meeting, see poor video quality, freeze or have their audio cut in and out.
Some factors that might influence bandwidth during a Teams meeting are listed below:
A low-speed internet connection for the teacher.
A low-speed internet connection for one or more students.
Times of the day when there is low bandwidth due to network usage in an area.
Low bandwidth periods due to local outages.
Network Congestion (number of users and applications competing for bandwidth)
Home WiFi

(such as Spectrum or ATT wired home internet) When installed in a home, the Wifi is connected through a wired internet service provider and then broadcasts a wireless signal for the home. Within the home, multiple devices (Chromebook, laptop, tablet) connected to the same wireless signal are competing for the signal. If multiple people in the home are online and working simultaneously the connection strength and stability will likely be lower than if only 1 person and device is connected and in use.

Mobile Hotspots (MiFi)

If multiple devices (Chromebook, laptop, tablet) are connected to the same MiFi within the household, they are competing for the cellular signal. Additionally, multiple users of the same cellular provider (such as T-Mobile or Verizon) are now also competing for service. In large events, densely populated areas or at certain times of day cellular strength may not be as reliable for this reason.
Physical obstructions (weather, buildings, trees, distance to cell tower)
Some things which may impact the strength and signal of an internet connection is the
Seasonal changes and physical barriers make it hard
Metal panels, concrete walls, and other obstructions.
Cell towers have limitations to the distance they broadcast service to.
Avoiding or minimizing the use of live video is the best way to cut down on excessive use of bandwidth. And if you have recorded video or audio to share, it's better to upload it to OneDrive or Microsoft Stream and then share a link to that file (rather than embedding the large file itself in an assignment or notebook). Read on for more details.
What can teachers do to minimize issues related to internet connection?
It is not reasonable to expect many parents to be able to troubleshoot these issues, and low bandwidth issues may be out of a student or parent's control.
Screen Sharing:
Share only the application students need to see for the current lesson instead of the entire screen.

Screen control: Students using the browser version do not have the option to control another participant's screen during a meeting.
Video and Audio:
Avoid requiring students to turn on their video for the duration of the meeting. While they can enter the meeting with cameras on to greet the teacher, they should then have the option to turn them off to reduce the load placed on their device and home network.
Provide options for students who are identified as already having trouble connecting or experience being dropped from a session.
Ask students to join without video and turn video on when they are speaking or at certain times, rather than for the entire meeting.
Turn off teacher video when screen sharing.
Record the session and share with students. Students should always have the option to watch session asynchronously for review and in case technical issues prevented them from joining the live session.
Limit the length of live meeting sessions to 30 minute intervals or less. (video length for recorded sessions will also be a benefit students watching asynchronously, as streaming long videos often results in loading delays and errors which can prohibit students from watching to the end.)
Students using the browser version do not have the option to see the meeting in gallery view or together mode.
Pre-record portions of a lesson and ask students to collaborate in channels within the team.
Should we use something other than Teams?
No matter the system, all videoconferencing applications face similar bandwidth issues. Changing the application will not address the root cause of the problem as performance is similar across leading products.
Microsoft Teams automatically adjusts video and audio quality to help minimize issues seen by the user.
The chart below shows the average bandwidth speed in Mbps for a meeting with streaming video.
Videoconferencing Alternatives
Read entire article from DePaul University's Center for Teaching and Learning https://www.iddblog.org/videoconferencing-alternatives-how-low-bandwidth-teaching-will-save-us-all/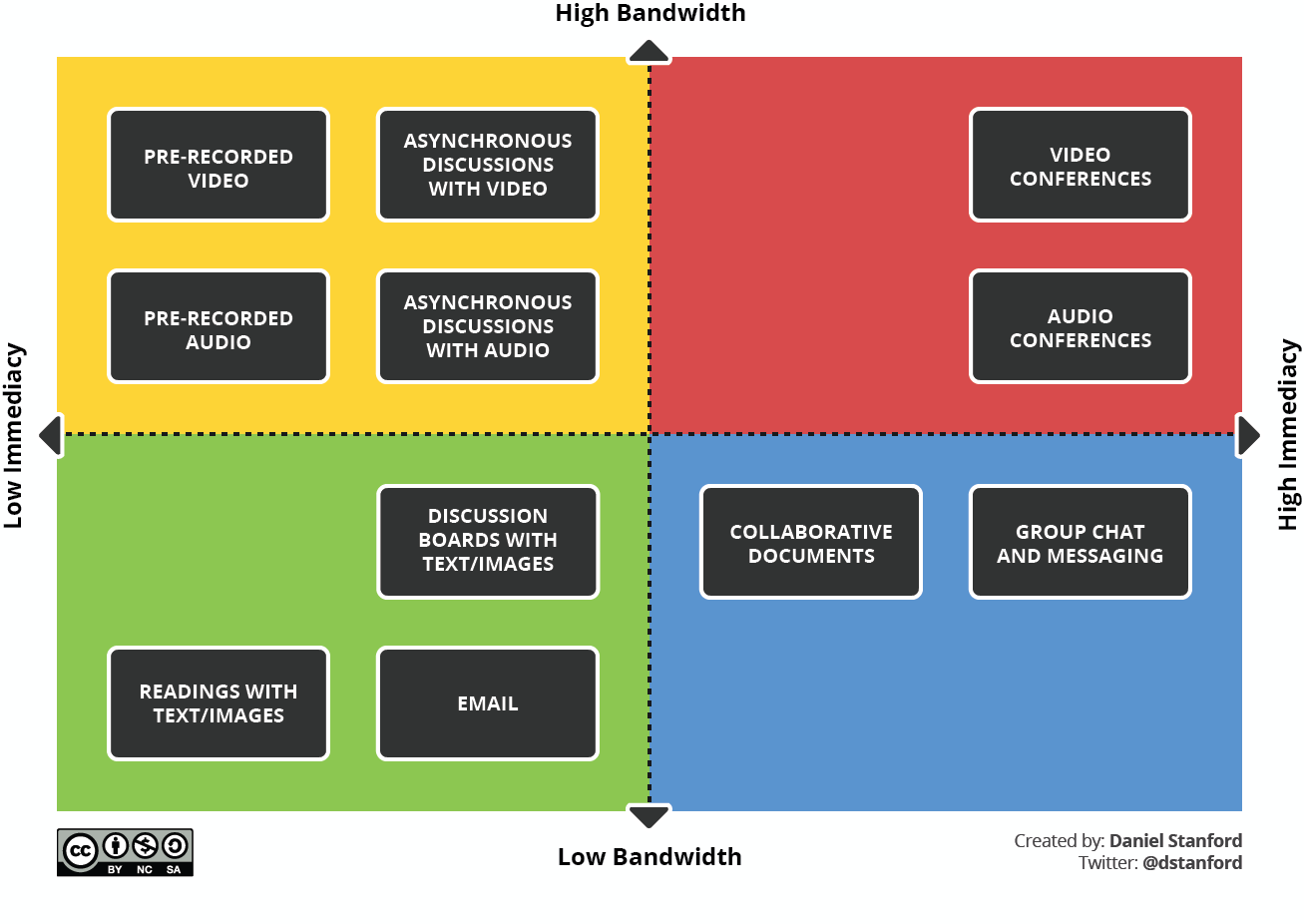 Device Limitations
It is important for teachers to understand the limitations of the student devices in comparison to staff laptops.
Here is a brief overview of the Teams versions installed on issued devices.
What can teachers do to minimize issues related to device limitations?
Avoid asking students to split their screen, their screen size is relatively small and this can make reading more difficult especially for younger students.
Avoid prompting students to open multiple browser tabs to keep their attention on the content they need the most.
Use tabs and channels to share and organize resources for students.
When sharing a Pear Deck, allow students to work in student-paced mode to minimize confusion from having to toggle between the meeting and interactive deck.
Students do not have applications installed on their devices and must use the online version such as Word and PowerPoint Online. Teachers should familiarize themselves with the online versions of tools before asking students to complete an assignment to be able to accurately anticipate misconceptions.
Distribute assignments and share resources through Team Channels to help keep them organized and accessible for students.